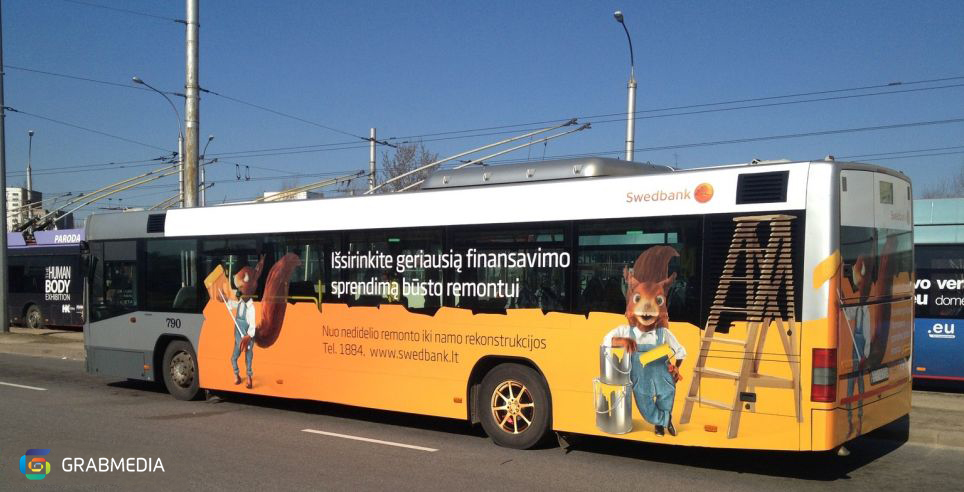 Grabmedia agency offers the following advertising services on the exterior of public transport:
We lease surface area of buses and trolleybuses for advertising purposes;
We carry out all works concerning production of press and sticking and removing of advertising;
We provide maintenance of sticked buses and trolleybuses throughout advertising period;
We coordinate the projects with relevant authorities free of charge;
We develop design on the public transport, and are ready to adapt adverting material readily available;
We consult and advise on planning of advertising campaign;
We operate in every Lithuanian city.
General information on advertising on the exterior of buses and trolleybuses
The entire exterior  project of public transport, starting with a finished layout received until the time a sticked vehicle takes to streets lasts 3 to 7 days. That depends on a city, model and positions of pasting.
Production of promotional press for a fully executed bus or trolleybus lasts 8 hours. Sticking works last 6 to 10 hours.
Any stickers to be used for extended periods of time are laminated to protect them from fading due to exposure to the environment. In this event a sticker offers excellent advertising for over a year.
We do not save at expense of quality, and rely on tested and certified materials by 3M, Orafol and genuine paints byEpson.
Advertising sticking works are entrusted to staff members with 20 years of experience in this work.
Price of advertising on the exterior of buses and trolleybuses consists of two components:
Lease price of advertising area on a bus or trolleybus;
The price of production of stickers and works.